It's not every day that mere mortals get to fly first class on one of the world's most prestigious airlines – the Dubai-based Emirates. If, for whatever reason, you've been confined to a life of economy class and this is your first time playing in the deep end of the pool, you may be experiencing a little trepidation about what to expect.
Are the rules different in Emirates first class? How do meals work? Can you have as much champagne/food/snacks as you want? Are you allowed to use the onboard bar? There are a lot of questions about how it might go in first class, and the answers are not always obvious.
That's where this guide comes in. By the time you're done reading, you'll have a great idea of what to expect when you board that plane and get escorted to your snazzy first-class seat for the very first time.
Let's take a look, then, at what you can expect when flying first class with Emirates.
You'll Get A Different First-Class Experience Depending On The Plane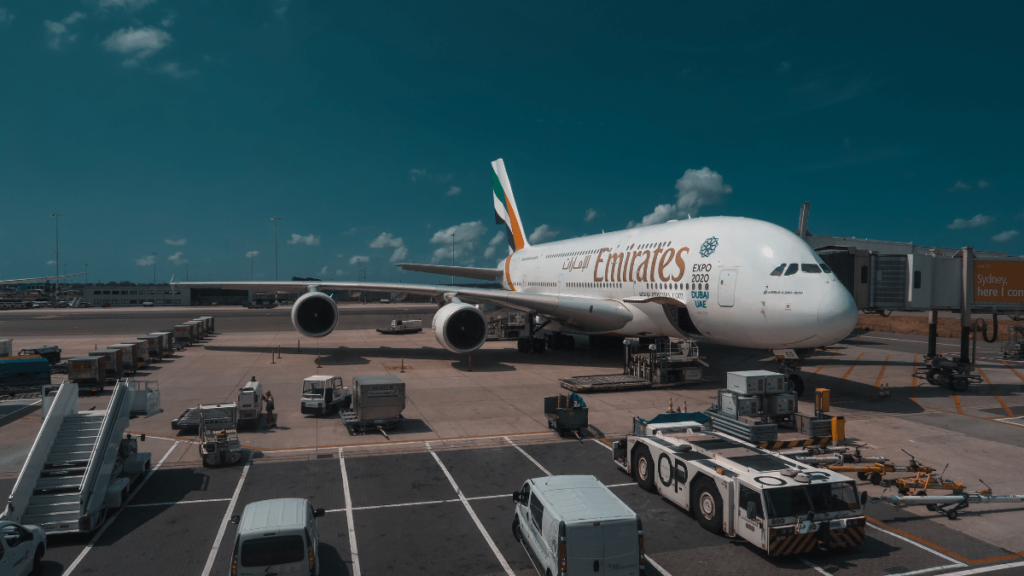 Not all Emirates first-class experiences are created equal. The biggest determiner here is what kind of plane you're on, as Emirates uses two different ones for its commercial flights.
Now, it should be said that both first-class experiences are amazing. Both offer something that the other does not, however, so let's take a look at what sets them apart.
Boeing 777
The 777 lacks the double-decker configuration of Emirates' other plane, the A380, and there's no onboard bar. While this might disappoint some, what most assuredly won't disappoint is the caliber of the first-class experience: the ultra-luxe 'private suite'.
These highly exclusive suites are, unlike many other purported first-class suites, genuinely suites in the sky. They are stand-up-and-walk-around big, with high ceilings and 40 square feet of space.
They feature temperature control, mood lighting, and HD projections of the exterior view onto the 'windows'. They are the last word in luxury flight experiences, and you will absolutely feel as if you're in an actual hotel suite for the duration of your flight.
If there's one thing (or two things, actually) that the Boeing 777 lacks, it's the features that come with the A380 experience…
Boeing A380
The much-vaunted Boeing A380 is the "double-decker" airplane, complete with an exclusive bar upstairs that first-class visitors are able to patronize at their leisure. But there's far more to the first-class experience than a mojito and a packet of peanuts.
The biggest draw of the A380's first-class experience, however, is probably the shower facilities. That's right – all first-class passengers have access to the two full-size bathrooms that are found in first class for up to thirty minutes.
Only five of those thirty minutes can be used for actual showering, unfortunately – water is at a premium 50,000ft up in the air – but you can take your time pampering yourself in the remaining 25 minutes with the complimentary toiletries on offer from Bulgari and Voya.
Where the A380 experience falls down is in your suite itself. It's not quite as self-contained as the one found on the 777, but it does still contain a seat that extends out into a full-length bed.
You'll Have On-Demand Dining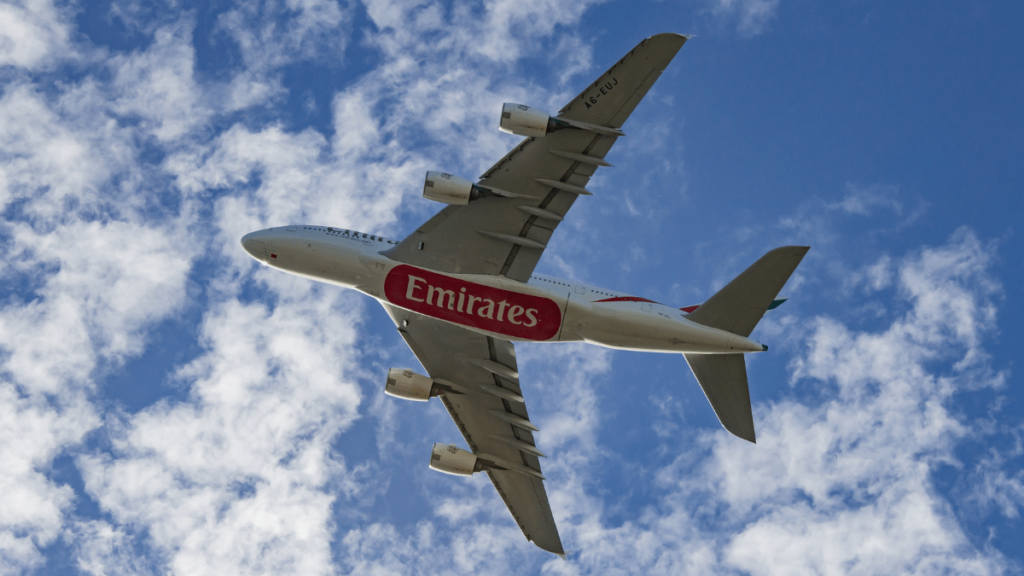 The dining experience in Emirates' first class is truly next level. For one, you don't have to eat at the same time as everyone else. This distinguishes Emirates first class not only from economy class but also from most other first-class experiences offered by other leading airlines, who typically bring out meals for everyone simultaneously.
With Emirates, you can eat whenever you want. You can place a "room service" with a brief video call, choose from the options on offer, place your order, and wait for it to arrive.
You can sip Dom Pérignon (only on Emirates, quite literally: no other airline offers it) or Lavazza coffee as much as you want before, during, or after your meal. You also have an in-suite minibar filled with food and drink that you can take as and when you like.
There's also a complimentary snack basket placed in your suite before you arrive. This is filled with such high-end treats as Lindt chocolate bars and several items from the Bennett's Snacks range.
If you'd like something to snack on while you enjoy the in-flight entertainment, there's also a deluxe 'movie snacks' option featuring wagyu sliders, lobster rolls, and edamame.
There Are No Overhead Bins
One thing that's definitely worth preparing for is the fact that, in order to fit in all the other goodies, there are no overhead storage bins in first class.
The attendants will do their best to place your bags elsewhere (in an empty suite, for instance), but there is no guarantee of this, so pack light or check your bags.
You'll Get Access To The First-Class Lounge
The first-class experience doesn't just happen in-flight – it happens pre-flight, and it happens while waiting for any connecting flights.
You'd be well advised, if possible, to schedule some stopover time in Dubai itself. There you'll get access to the Emirates First Class Lounge, which includes access to the Timeless Spa. As a first-class passenger, you'll get a free range of face/body scrubs as well as massages and nail treatments.
The luxury treatment doesn't stop there. With an exclusive cigar lounge, shoeshine station, children's entertainment, Le Clos wine cellar, private duty-free shop, and buffet dining, Emirates First Class lounge is an experience in and of itself.
In Summary, Emirates First Class is Well Worth it
There is a reason that Emirates consistently wins 'best airline' awards and constantly tops out lists of best first-class experiences – because it is, quite simply, absolutely amazing.
If you can fly first class on this top-notch airline, it's well worth doing so. Just remember what to expect, and you'll have the experience of a lifetime.
Wondering what accessories to bring with you on your maiden voyage on Emirates first class? Check out our popular guide to eight of the most essential luxury travel essentials that every sky dweller should own!