Young and rich-looking guys showing off their wealth in the glittering city of Dubai is something I've seen a surge of across social media this year.
But notice that I said rich-looking? The reality is that the bulk of these guys aren't rich at all. In fact, they use Dubai as a staging ground for their online persona, Youtube channel, TikTok, or otherwise.
Hey, don't get me wrong; I'm not hating on them. I respect the hustle, and on a recent trip to Dubai, I had my eyes peeled to see these part-time elites strut their stuff around the city and was keen to know how they make themselves look wealthy in Dubai.
Honestly? It fascinated me. So much so that I took the time to ask some of them straight-up about their background and why they do what they do.
Most of them were very open, and I was keen to know their backgrounds, ambitions, and projects. I found that most of these guys were on a mission to create a wealthy-looking online persona that matched their wealth-building journey that ranged from dropshipping sites to financial motivation TikToks.
In this article, I'm going to outline some of the most underrated techniques these guys were using in Dubai, many of whom had flown thousands of miles to carry them out. The final bill for all of these world-class photos doubled as once-in-a-lifetime marketing opportunities. Well, under $1,000!
Now, let me explain how it all works because this will blow your mind!
Supercar Rentals in Dubai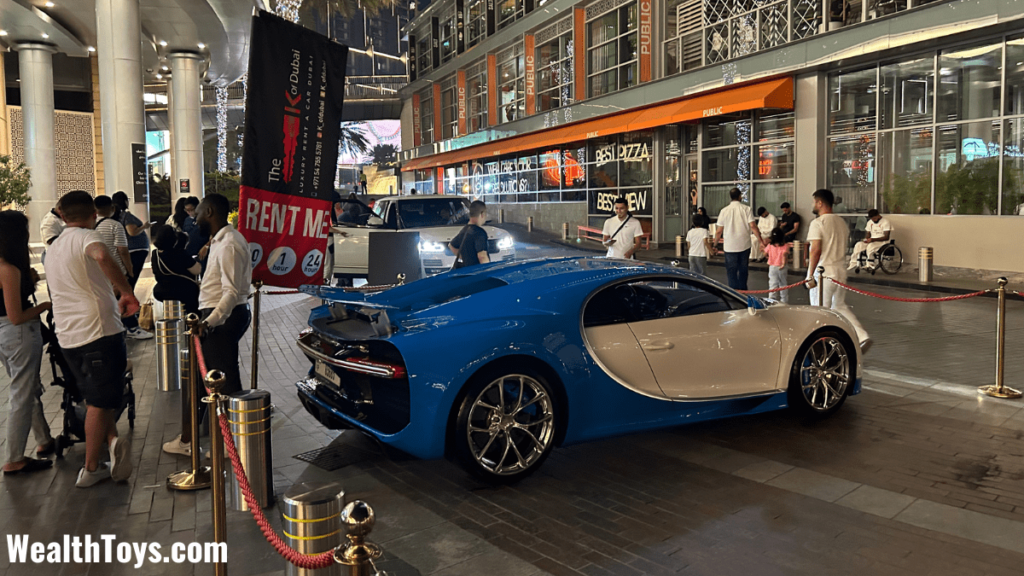 Ok, let's kick things off with Dubai supercar rentals. From Trump's Rolls Royce to Andrew Tate's Buggati, owning an iconic supercar is an iconic symbol of sheer wealth. But who said you had to own it?
Sure, owning one is the dream (and one you should aspire towards if it's something that inspires you), but for the purpose of looking wealthy, it's super simple to hire one in Dubai for a day or even a few hours.
Oh, and the prices? They're not that expensive at all. I paid a visit to a few supercar rental companies in Dubai to check out their price lists, and these are just a few examples of what I found.
A 2019 Lamborghini Huracan Evo: Around $1,000 – $1,100 USD per day
A 2020 Bugatti Veyron: Expect to pay around $30,500 per day
A 2021 Bentley GT: Somewhere around $1100 – $1,200 USD per day
Included in the rental price of the car is full insurance for the duration of the rental.
Visiting a Shiek's Private Zoo to Play With Lions, Tigers, and Bears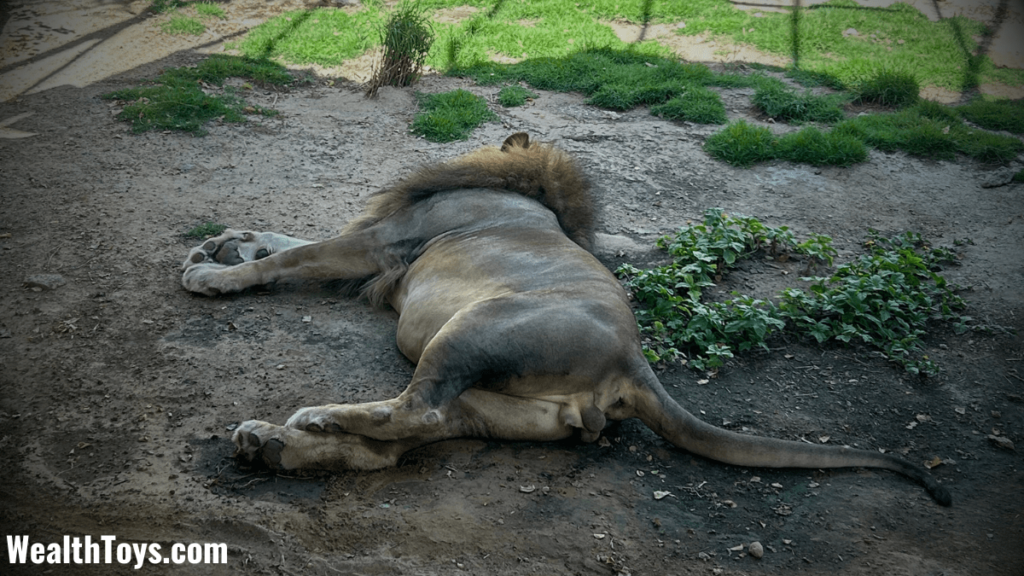 ''Woah! Did you see Jamie's post on Instagram?'' he's hanging out with some Sheiks in Dubai and playing with their pet lions'' is something Jamie, a 23-year-old entrepreneur from Sheffield, encourages people to think back in his hometown.
The reality, on the other hand, is far different. Yes, there are a handful of private zoos in Dubai and the wider U.A.E. owned by some very wealthy people, but visiting them is as simple as ABC and can be booked online for around 500 AED (USD and euro price).
This price includes door-to-door pickup and includes a professional photographer following your lion-taming journey every step of the way. So, if you want to look like a better-dressed Joe Exotic (without the guns and prison sentence), it's very easy to do so.
Visiting the Top of the Burj Khalifa (It Isn't What You Think)
It's hard to deny that the Burj Khalifa is one hell of an impressive building. The tallest building on earth towers over Dubai and can be seen from pretty much anywhere, as long as the weather is clear.
To many people outside of Dubai, gaining access to this iconic building and its insanely high top floor is something mistakenly presumed to be only open to the rich and famous.
This is something that has been reinforced by a popular meme of Tom Cruise sitting on top of the building's antenna barefoot like a Chad while Will Smith posed for the same picture but looked scared for his life. Poor Will!
The reality is that thousands of people visit the Burj Khalifa and get access to some of the building's eye-wateringly high floors with various tiers of tickets.
This means there is no shortage of guys posing for pics at the top of the tower and getting badass photos of themselves looking down on the megacity of Dubai and, quite literally, looking like the kind of the world!
A Jetski is the Best Way to See the Burj Al Arab
The high-speed adrenaline rush that also lets you explore places that conventional boats can't go has meant that, for decades, a jetski has been seen as a toy of the wealthy.
The reality is that a jetski is well within the reach of the middle class with basic surplus income these days. However, when we're talking about people with no concept of this, it remains something reserved for those with serious cash.
This is why a jetski rental in Dubai is one of the priorities of many guys visiting the iconic Gulf city to rent an iconic symbol of wealth (by the hour!)
It's not hard to see why when you see some of the snaps some of these guys get. Want the best snap of the Dubai skyline that few people get to see? Hop on a jet ski.
Equally, for a unique shot in front of the iconic Burj Al Arab, which is the world's only seven-star hotel, a jetski is your best option.
Failing that, you can also club together with some of your friends and hire a luxury yacht. Funnily enough, that brings us to our next point!
Posing on a Luxury Yacht is a Great Way to Look Wealthy in Dubai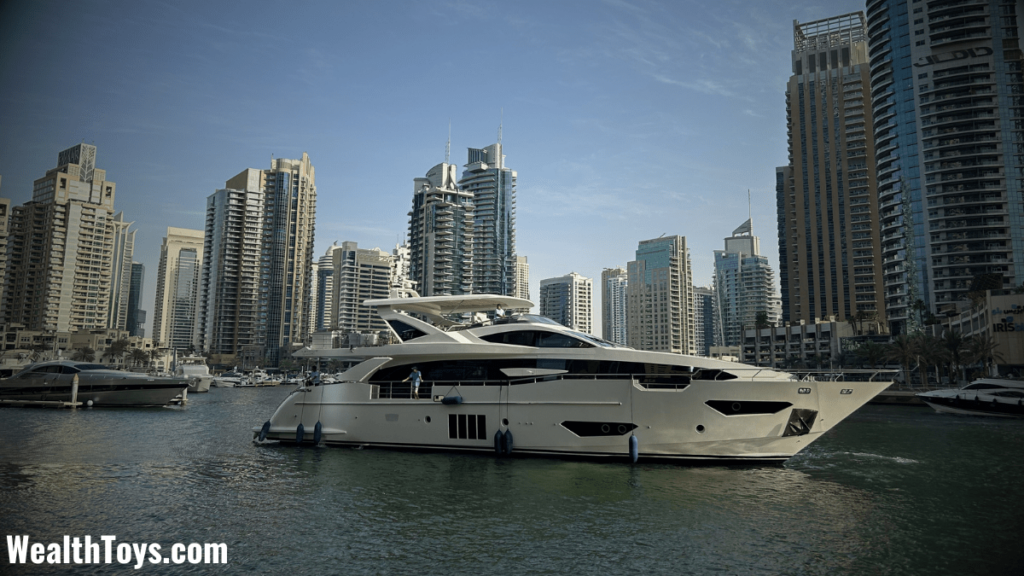 Taking a break from the scorching midday sun at the Dubai Marina, I spotted a group of five British guys in their early 20s boarding an impressive luxury yacht decked out in a sleek black and grey color scheme.
An hour and a half later, it was pulling back into port, and the guys were thanking the crew, saying their goodbyes, and making their way out of the marina. Damn, that was quick! I thought.
''Is this for TikTok?'' one of them asked enthusiastically when I asked them if the yacht was theirs and where they got it.
''Rented, bruv!'' another said nonchalontly. These five guys were all trying to build up online personas centered around cryptocurrency investing and had clubbed together to rent the yacht for just over an hour, which, apparently, is a very affordable timeslot if you're looking to snap some cool promotional pictures of yourself on a yacht usually only reserved for the elite.
By now, you're probably curious about how much it costs. Well, split between them, the yacht costs around $125 each for just over an hour. Oh, and trust me, if you'd seen the pictures, they managed to get on board; it was well worth the investment.
Dubai Can be a Paradise for Your Online Persona, But How to Make it Happen?
As you can see, the illusion of wealth in Dubai is often not what it seems. However, it does provide a perfect playground for those seeking to boost their online persona by gaining easy access to a range of things often only enjoyed by the elite.
Keen to explore what Dubai has to offer and take advantage of its numerous opportunities for online marketing in the world of wealth? Contact us for details on how to make it happen through my consultancy services!